---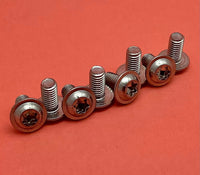 These are m6x12mm, t-30 drive, stainless steel bolts.

They're meant to replace the male end of your stock axles.
These are especially helpful on frames designed for single tool use (like Ground Control, RB, THEM, Powerslide/USD, etc...) 

Head diameter is 13.4mm
Head height is 3.3mm   

So far as we have tested, our axle heads fit all stock axles but the Roces/Valo and K2, which both use an m4 thread. They also fit the recesses of most frames, with the Roces/Valo street frame being the biggest exception. When it doubt, measure!

If for some reason these don't work with your setup, ship them back for a full refund - OR, better yet, email us and we can build you a custom set!