---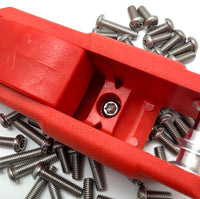 These are made for the 50/50 Balance frame only. The 50/50 Prime Frames accept standard UFS Bolts.

M6 Button Head - ISO 7380-1, A2-50 Stainless Steel - UFS bolts specifically designed for 50/50 Balance Frames.

T-30 Torx Drive. These are the best UFS bolts that money can buy!
These are available in 14mm, & 25mm options.
If you need specialized sizing for the rear bolts (USD Sway, Razors Cult, or Adapts) please use the drop down. If you order a special size, you'll receive (2) 14mm front bolts and (2) 25mm rear bolts. Additional sizes are available on request. 
If you have any questions about fitment, just ask!